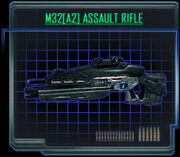 Now this is something to talk about. You get this when you start the game, and it will help you with all of your missions. Though it is not one of the more powerful weapons, it is your trusty little friendly gun. The primary fire is a fast, rapid automatic firing mode that will eat your ammunition like candy. The alternate fire is a fusion of five bullets that shot out like the T-13 Popgun's Primary Fire, though it flaks and is more powerful. Just remember, this gun is nothing but your friend...that can cause death...and blood.
Ad blocker interference detected!
Wikia is a free-to-use site that makes money from advertising. We have a modified experience for viewers using ad blockers

Wikia is not accessible if you've made further modifications. Remove the custom ad blocker rule(s) and the page will load as expected.