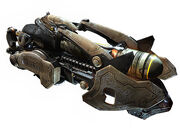 The Longbow AVRiL is a weapon appearing in Unreal Tournament 2004 and Unreal Tournament 3. Its main use is to take out the vehicles in both games, and many times, it can take out an undamaged Manta in a single shot.
Death Text
Edit
# was blown away by # with an ARViL.
# pointed his/her gun the wrong way.
In UT3, the death text is unobtainable without use of the "Weapon Replacement" mutator.
# rode #'s rocket to oblivion.
# pointed their gun the wrong way.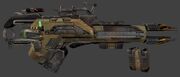 Chart for Shots/Vehicle
Edit
* means that a vehicle has higher health in UT3. UT2004 results are the first shown.
** means that the vehicle did not appear in UT2004.
The ARViL is the only weapon to first appear in UT2004, but made it into UT3.
The UT2004 ARViL has a bad recoil that can push the user off of a platform.
The UT3 ARViL is significantly rarer than in UT2004.
Ad blocker interference detected!
Wikia is a free-to-use site that makes money from advertising. We have a modified experience for viewers using ad blockers

Wikia is not accessible if you've made further modifications. Remove the custom ad blocker rule(s) and the page will load as expected.