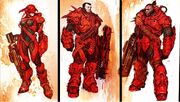 Team Ronin, or primarily Red team, are a group of soldiers in Unreal games. They are a team of Ghost Warriors that are backed by the Izanagi Corporation. They are the common enemies of the Iron Guard. The main character, James "Reaper" Hawkins is also a member, along with his sister Jester. They also defeated the Necris Black Legion, when Reaper beat Akasha in a match, and ended her life for good by curb stomping the Black Legion queen. He also bashes her repeatedly with his rocket launcher.
Ad blocker interference detected!
Wikia is a free-to-use site that makes money from advertising. We have a modified experience for viewers using ad blockers

Wikia is not accessible if you've made further modifications. Remove the custom ad blocker rule(s) and the page will load as expected.