This page lists every official multigame release of the Unreal series.
Unreal Gold
Edit
The game was patched to version 226 and contained the Unreal Tournament UWindows interface. This version of Unreal contained a patch that was not available to the original Unreal owners. Shortly after Unreal Gold was released, a 226 patch was released for the original release. However, though the Direct3D support was much improved, the network code was poor compared to the then very popular 224v patch.
Totally Unreal
Edit
Later revisions included the 436 patch and Bonus Pack 4 and two community mods, ChaosUT and Rocket Arena for Unreal Tournament. This compilation was withdrawed on February 2007.
There was later a re-release called Totally Unreal: Atari Heroes Edition, almost exactly the same as the original; with the only changes being it replaces the gold bars on the top and bottom of the cover with the green Atari Heroes border, and has a demo disc of other Atari Heroes games.
Unreal Anthology
Edit
Main article: Music#Unreal Anthology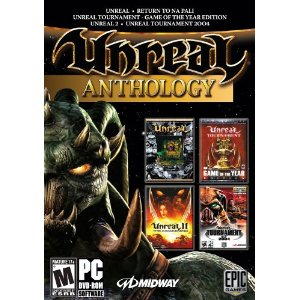 All items were at the latest patch status and in the case of UT2004, also included the Editor's Choice Edition content. It also includes an Unreal Music CD that has 23 tracks from Unreal 1 to UT 2004. On the back of the game box it has the reviews for the 4 games. This compilation's version of Unreal Tournament omitted the additional CD of S3TC high resolution textures that was present in the original release. This compilation's version of Unreal is not compatible with existing servers running version 225 of Unreal unless patched. A community generated patch is available that replaces the problematic Unreal Anthology files with versions from Unreal Gold.
Unreal Deal Pack
Edit
Publisher: Valve Corporation
Includes: Unreal Gold, Unreal Tournament (Game of the Year edition), Unreal II: The Awakening, Unreal Tournament 2004: Editor's Choice Edition and Unreal Tournament 3: Black Edition
Platforms: PC (Steam).
Release dates: March 17, 2008 (PC).
The fourth disc in the original US release of Totally Unreal had a typo in the ISO9660 title, naming it TU Bonus Disc.
The Unreal Anthology package had a PEGI rating of 16+ and an ESRB rating of Mature.
External links and references
Edit
See also
Edit