Upcoming event
The article is about an upcoming event. Information on it may change as time passes.

Unreal Tournament 4 is the upcoming fifth installment of the Unreal Tournament series, and the tenth installment of the Unreal series. It is currently in development for Microsoft Windows, OS X, and Linux.[1] It is the first main entry in the series since 2007's Unreal Tournament 3, and it is being developed by Epic Games with contribution of the community.
Overview
Edit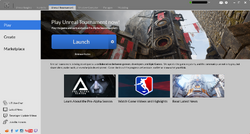 Unreal Tournament 4 is the latest (as of 2017) first-person shooter entry in the franchise. The gameplay remains the same as past entries in the franchise, but with a new movement set, closer to that of Unreal Tournament (only the wall jump is being kept) but with new in-game abilities such crouch-sliding and wall running replacing the multiple jumps from past entries. The weapon roster is kept intact from Unreal Tournament 3, but two new weapons are added: the Grenade Launcher (which reverts the Rocket Launcher to its UT2004 status) and the Lightning Rifle as an alternative to the Sniper Rifle.
Development history
Edit
The development for the game started in May 8th, 2014, with a message[2] from Steven Polge detailing how the project will be handled with the community, following the commercial failure of Unreal Tournament 3.
"The Future of Unreal Tournament Begins Today.

Work on the future of Unreal Tournament begins today, and we're happy to announce that we're going to do this together, with you. We know that fans of the game are as passionate about Unreal Tournament as we are. We know that you have great ideas and strong opinions about where the game should go and what it should be. So let's do something radical and make this game together, in the open, and for all of us.

Here's the plan:

- We've created a small team of UT veterans that are beginning work on the project starting today.
- From the very first line of code, the very first art created and design decision made, development will happen in the open, as a collaboration between Epic, UT fans and UE4 developers. We'll be using forums for discussion, and Twitch streams for regular updates.
- If you are a fan and you want to participate, create a free account and join the forum discussion.
- All code and content will be available live to UE4 developers on GitHub.
- The game will be true to its roots as a competitive FPS.
- Development will be focused on Windows, Mac and Linux.

So what's the catch?

- It will take many months until the game is playable by gamers. This is real development from scratch.
- When the game is playable, it will be free. Not free to play, just free.
- We'll eventually create a marketplace where developers, modders, artists and gamers can give away, buy and sell mods and content. Earnings from the marketplace will be split between the mod/content developer, and Epic. That's how we plan to pay for the game.

A lot of this is brand new for Epic, and we don't yet have everything figured out. Things will probably definitely go wrong from time to time, and when they do, we'll have to work through them together. There will be a lot of tough decisions to make, and not every feature will make it into the game. But if you're a fan of Unreal Tournament, a UE4 developer, or a future modder – or if you just want to learn how we make games – we hope you'll join us. It's going to be fun."
―Steven Polge of Epic Games
The game is being developed using the Unreal Engine 4. It is still in early alpha, and has been made available to the public for crowd-sourced development. Because of this, the game is currently available for free from Epic Games so that those who are willing to create content can do so or simply test the game. Due to the early nature of the game, there is a considerable amount of "placeholder" content. As a result, not all weapons or features may resemble their final developed design and are subject to change.
Release dates
Edit
Main article: [[]]
Announcement: May 8th, 2014.
Pre-alpha:
Game content
Edit
Gamemodes
Edit
Main article: Unreal Tournament 4 Single player
Most game modes in UT4 are fairly standard to most UT games: Deathmatch, Team Deathmatch, Duel, Capture The Flag and Instagib CTF. However, the game introduces two new game types: Blitz and Showdown. With the exception of Blitz, Capture The Flag and Instagib CTF, the rest of the maps.
Characters
Edit
The weapons in UT4 are standard fare to most UT games. Like past games, they're divided into 10 weapon slots:
The following items have been confirmed for the game:
Soundtrack
Edit
The following tracks have been confirmed. Some of them are just placeholders, while others have been created (or remixed) solely for the game. This is not a final list, it will be updated as new tracks are added.[3]
(*) Indicates UT99 track (not new/updated). All other tracks are new.
Essential Files
Edit
Main article: Essential files#
Main article: Bonus content#

Here you can find a list of official and unofficial, yet essential, files for your game.
UT4 seems to have a faster paced game speed compared to other UT games.
The ballistics of the flak cannon have changed, and can take some getting used to.
Though there are only few character models, the player character can be customized with various cosmetic accessories.
External links and references
Edit
↑ Unreal Tournament Soundtrack @ UT Forums
See also
Edit
Ad blocker interference detected!
Wikia is a free-to-use site that makes money from advertising. We have a modified experience for viewers using ad blockers

Wikia is not accessible if you've made further modifications. Remove the custom ad blocker rule(s) and the page will load as expected.