Article stub
This article is a stub. You can help the Unreal Wiki by expanding it.

Unreal Tournament 4 is an upcoming game in the Unreal series developed by Epic Games with contribution of the community.
Overview
Edit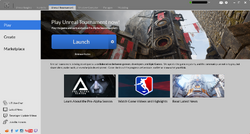 It is developed using the new Unreal Engine 4. The game is still in early alpha, and has been made available to the public for crowd-sourced development. Because of this, the game is currently available for free from Epic Games so that those who are willing to create content can do so or simply test the game. Due to the early nature of the game, there is a considerable amount of "placeholder" content. As a result, not all weapons or features may resemble their final developed design and are subject to change.
The weapons in UT4 are standard fare to most UT games:
Gametypes
Edit
Most game modes in UT4 are fairly standard to most UT games: Deathmatch, Team Deathmatch, Duel, Capture The Flag and Instagib CTF. However, the game introduces two new game types: Blitz and Showdown. With the exception of Blitz, Capture The Flag and Instagib CTF, the rest of the maps.
UT4 seems to have a faster paced game speed compared to other UT games.
The ballistics of the rocket launcher have been improved.
The ballistics of the flak cannon have changed, and can take some getting used to.
For the moment, the Link Gun's primary fire is ludicrously overpowered.
Though there are only few character models, the player character can be customized with various cosmetic accessories.
External Links
Edit
Ad blocker interference detected!
Wikia is a free-to-use site that makes money from advertising. We have a modified experience for viewers using ad blockers

Wikia is not accessible if you've made further modifications. Remove the custom ad blocker rule(s) and the page will load as expected.