Unreal is a series of first-person shooter video games developed by Epic Games. The series is widely known for its exhibition of the Unreal Engine, a game engine that was first showcased in the original game. The series started as a primarily single-player game, but the first installment's multiplayer successor, Unreal Tournament, saw such great success that the series has since been largely based on multiplayer gameplay.
Following the commercial success of Unreal Tournament, the series has mainly been comprised of arena first-person shooters, with head-to-head multiplayer deathmatches being the primary focus of the games. The Unreal universe is primarily set in a science fiction environment, with players competing against others across different arenas in fast-paced FPS combat. To date, the Unreal series has been very successful, selling more than 15 million units worldwide.
List of Unreal gamesEdit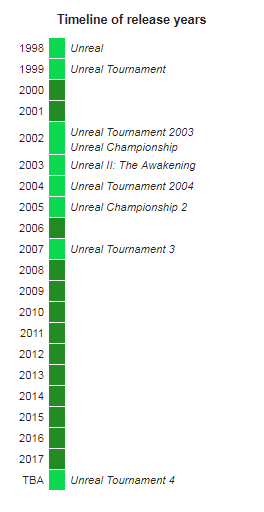 Unreal TournamentEdit
Unreal ChampionshipEdit
Ad blocker interference detected!
Wikia is a free-to-use site that makes money from advertising. We have a modified experience for viewers using ad blockers

Wikia is not accessible if you've made further modifications. Remove the custom ad blocker rule(s) and the page will load as expected.